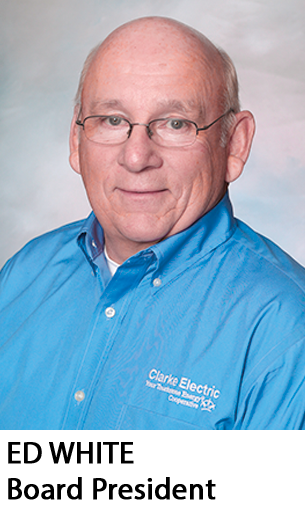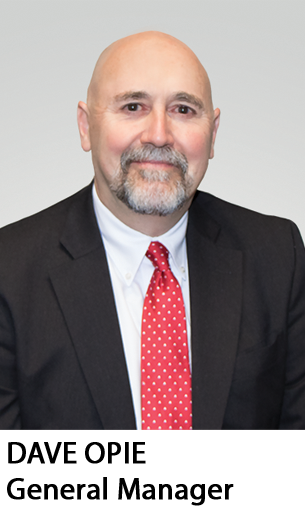 The annual meeting report gives us a chance to reflect on the previous year's accomplishments. And while it was a year of challenges due to the ongoing pandemic, it was also a year that we started to move toward a new sense of normalcy. 
We completed our office and facility remodeling project after spending six months of working both remotely and at an offsite office location. Our employees met those logistical challenges with minimal disruption to our member-consumers. We eagerly returned to our new offices and warehouse in May, 2021 and, after settling in, hosted an open house to show off our modernized facilities.
In 2021, Clarke Electric Cooperative paid $350,000 in patronage dividends to our member-consumers. We continued our community outreach with our Operation Round-Up program, granting more than $6,000 to organizations and individuals in our local communities. With the cancellation of Youth Tour, we began a new scholarship program for local high school seniors to help them continue their education. 
Our line crews forged ahead by working together to build over 100 new services and replace aged poles and wires across our service territory. But in late 2021, we began to see long lead times and increasing prices for equipment, materials and supplies. While we don't normally keep a large inventory on hand, we started to purchase larger quantities of materials to ensure we would have what we needed when we needed it. This continued into the 2022 construction and maintenance season, and we were fortunate to have pre-ordered a new insulated two-man bucket truck far enough in advance for it to arrive during this time.  
We welcomed two apprentice linemen to our staff, Hunter Koehn and Jarad Taylor in 2021. This brings our number of employees to 24. We said goodbye to Board President Kyle Kelso, who served the cooperative faithfully over 15 years. Having reached the maximum term limit, Kyle was unable to run in last year's election. New Board President Ed White continued to provide leadership on behalf of our member-consumers and our cooperative. We also said goodbye to board member Bill Willis, who sadly passed away unexpectedly in April. Natalie Rydl was appointed to fill Bill's seat until this year's election. 
Having escaped major damage from the derecho in August, 2020, our cooperative wasn't so lucky when another one crossed our territory in December 2021. We suffered widespread damage and outages as a result of this high-wind event. Thankfully, our employees are well trained in storm recovery, and worked around the clock to get the power back on for our member-consumers as quickly as possible. 
Although 2021 was a year of transitions, we finished strong. Our financials are stable, we have a new facility to meet our needs for many years to come, and we have a great team of employees who are dedicated to serving our members.
In the first six months of 2022, we continued to struggle with obtaining materials and price increases that impact our budget and our ability to build or upgrade services. For you, this meant slower response time to new service installation requests and service upgrades. We pride ourselves on our customer service and being able to meet new service needs in a timely manner, and our employees have been both creative and relentless in their efforts to provide good customer service as we face these limitations.
We will always rise to the challenges and take care of our members and your cooperative as we have for the last 82 years - one member at a time. Thank you for your support.