View a sample of your Clarke Electric Cooperative monthly invoice below on the left with a brief description of each section located on the right.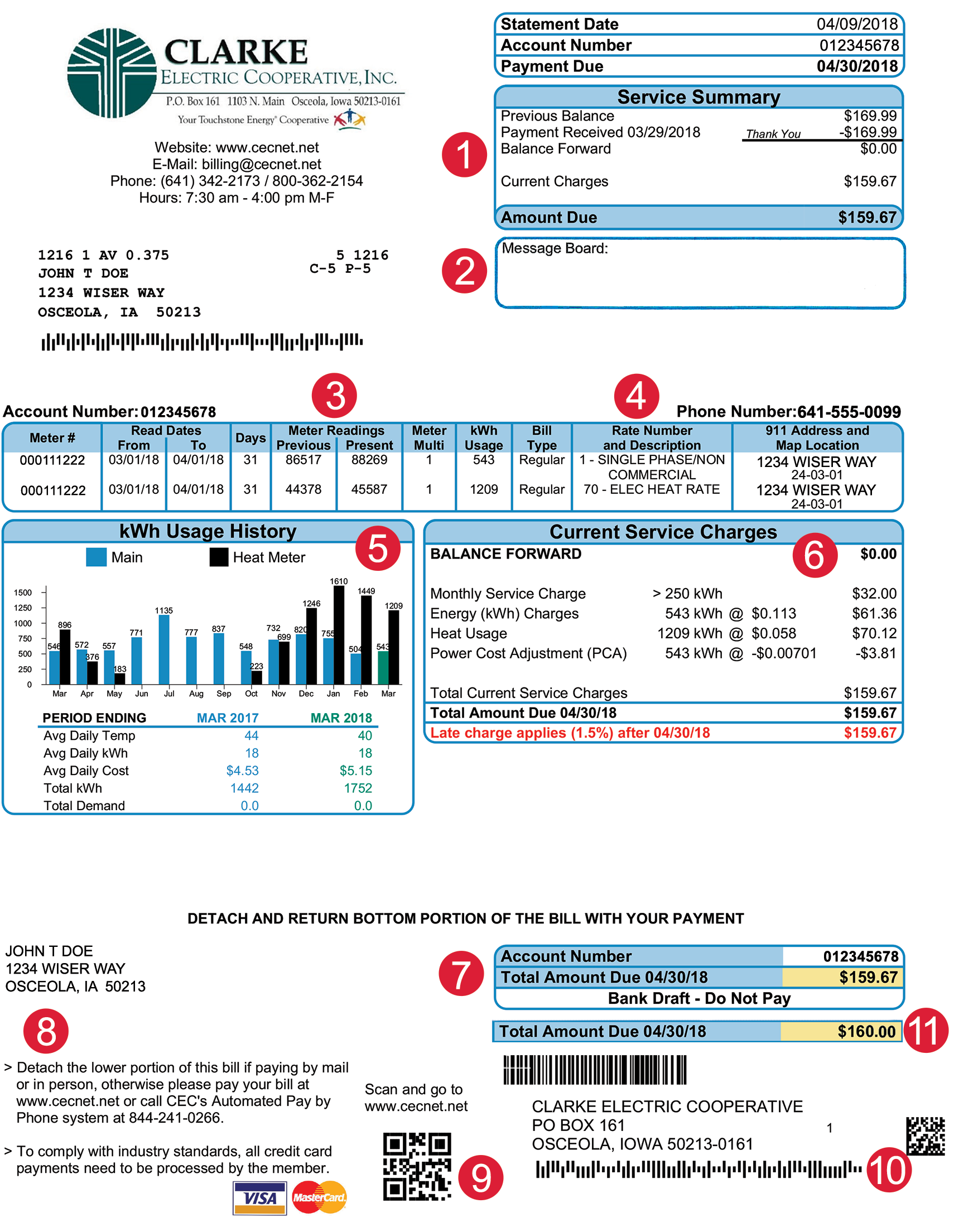 This box shows any outstanding balance due and current charges for the billing period. 
This is a place for Clarke Electric Cooperative to relay important information to you about your account.
This shows the number recorded on your meter(s) at the time they were read. Your kilowatt usage, what you are billed for, is the difference between these numbers. 
Describes the type(s) of service you receive from the cooperative. 
This bar graph shows your electrical use by month for the last year, as well as compares your usage from a year ago with your current usage. If you have a heat meter, there will be bars shown for the months the heat meter is in use.
Monthly Service Charge: This is a cooperative members' equal share of fixed costs so power can be available at your location. These fixed costs include poles, wires, transformers, and substations. It also supports fleet, facility and member service functions, such as line maintenance, substation upgrades, property taxes, right-of-way clearing, and general administrative responsibilities. 
Energy (kWh Charges): The amount of electricity you use each month is measured in kilowatt-hours. The kWh energy charge is designed to recover variable costs, including the cost of power from our power provider, environmental and conservation efforts, capacity requirements, and more.
Heat Usage: For all electric homes, a special heat rate is used for heating your home. The special rate is in effect October 1 thru May 31. 
Power Cost Adjustment: This is an adjustment on your current electric bill that can go up or down dependent upon the true cost of wholesale power purchased from our energy supplier.   
Indicates the total amount due. If you are signed up for automatic withdrawal, it will be indicated here and you will not need to return this portion with payment. 
Call 844-241-0266 to pay your bill by phone. We are no longer allowed to take your payment over the phone. 
This function allows you to use your smart phone camera to open a browser to Clarke Electric's mobile website. You can click on the "pay bill" icon and you will be directed to the Smart Hub feature to pay your bill online.
This bar code is used by the post office for sorting by area.
Amount due with Operation Round-Up contribution rounded up to the nearest dollar.